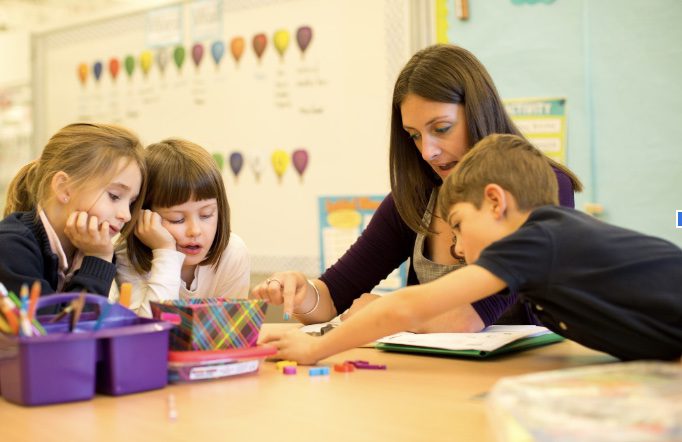 An innovator, an expert in all things literacy, the glue that holds the school together: These are just a few of the ways Kaylee Whitelaw's colleagues describe her.
Whitelaw, an instructional coach and interventionist with K-1 students at Charlotte Lab School, works every day to help the school's teachers and, consequently, students learn and grow.
"She is an expert in all things literacy and lives to share her wealth with others," said Falen Johnson, a teacher at Charlotte Lab School. "Mrs. Whitelaw teaches, coaches, models, eats, sleeps, and breathes READING! She spends countless hours assessing, analyzing data, and creating enrichment and intervention opportunities to help students reach their learning goals."
Whitelaw supports the school's teachers through modeling, coaching, preparing intervention lessons, and keeping classrooms stocked with developmentally appropriate resources. Her colleagues say she's a lifelong learner, always pursuing new ways to help educators and students reach their full potential.
"She is full of tons of amazing ideas for all subjects and makes a real effort to connect everything (reading in math and science, math in reading, science in writing, etc.)," said Katie Hepfinger, a Charlotte Lab School teacher. "All of the things she provides help the educators in our building grow, as well as provide a great, well-rounded education for our students." 
Whitelaw's mentorship makes a real difference for both teachers and students.
"As a first- and second-year teacher, I had the absolute privilege to work under her mentorship and experienced astronomical growth in my practice of ELA instruction," Johnson said. "Our students have continuously demonstrated remarkable growth in the areas of reading, writing, science, and math as a result of her endless labor."
Vikki-Rose Tunick, the school's co-founder and head of curriculum and instruction, echoed that, saying the school's students will become better readers and thinkers as a result of Whitelaw's work.
Whitelaw said she hopes to instill a love of reading in all students, drawing on her own experience to create a learning environment that is accessible and fun.
"I struggled with confidence in reading and was a very shy student throughout my own education," she said. "Upon becoming a teacher, I never wanted my students to feel anxiety or fear when approaching phonics, reading, and writing. By adding elements of fun, hands-on learning in all three areas, drawing from my pre-k background, I strive to bring smiles to the faces of my students. Whether three years old or 12 years old, literacy can always be made exciting and there is nothing better than instilling a love of reading in young learners!"