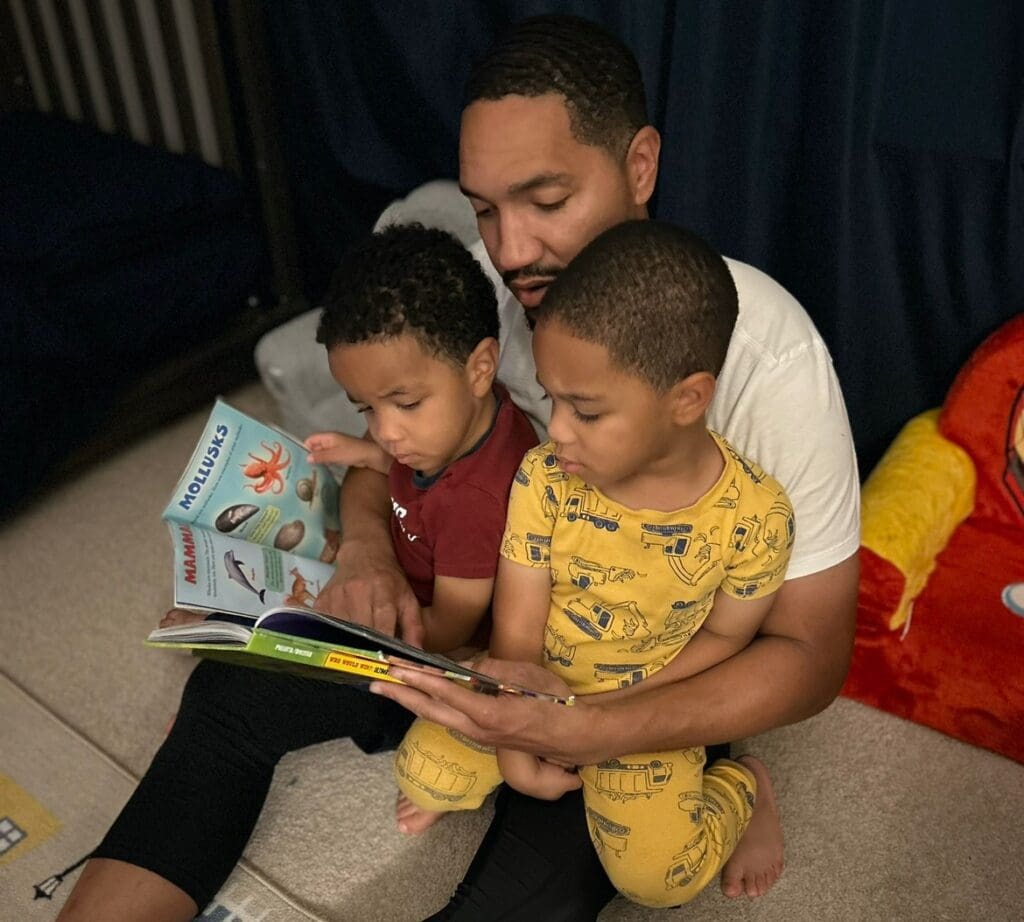 Kamieon Martin has read to his two young sons daily since their births, and is always looking for new ways to engage them and inspire a love of reading. That commitment inspired his wife, Neisha Martin, to nominate him as a Read Charlotte Reading Hero.
"Even on a small scale with two boys, a person can make a significant impact in a community," Neisha said. "Reading is fundamental, and it starts with just one child's perspective to make the difference."
She describes her husband as a dedicated father of three (a 2-year-old, 3-year-old, and teenager), who is driven to give his children something he didn't have growing up: "He grew up without a father, only ever meeting him during his burial in 2018. From the day since his father's funeral, he vowed to become the father he never had by continuing to show up for our daughter (his stepdaughter, Nia), and to always go the distance for any children we would later have together."
Neisha sees Kamieon deliver on that promise every day, saying he never skips a day of interactive reading. Kamieon sees that time together as bonding time, and also as a way to build important academic and social skills.
"Reading is the key that unlocks our imagination," he said. "I think it's important to go the extra mile because reading is a building block to confidence. I noticed it makes them more curious and eager to see and learn new things."
Kamieon looks for ways to keep his kids interested and engaged, remembering a period in his childhood during which he viewed reading as a chore, until he found books that piqued his interest and opened his eyes to the depth of the worlds available through books. He takes his toddler sons to Barnes and Noble to find new books they're drawn to, and uses character voices and recreates scenes to bring the books to life.
His effort has paid off, with their daily reading time becoming something they all look forward to, and something that Kamieon hopes will help his children better understand others and the world around them.
"I like to read to my kids every night before bed and noticed that they look forward to it. It's a positive routine that gives them comfort and expands their mind," Kamieon said. "Lastly, I would say that reading allows you to develop empathy, and that is so, so important in life. You can see the world through others. That is a key social skill and will take you so far in life."