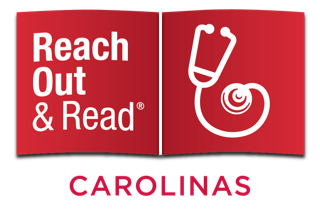 Reach Out and Read Carolinas is one of the most cost effective evidence-based literacy interventions at only $15 per child, per year.

MAKE A CONTRIBUTION
Read Charlotte and Reach Out and Read Carolinas joined forces to ensure more children in Mecklenburg County grow up with books, stories and a love of language by supporting families, starting at birth.Following the national model, Reach Out and Read Carolinas is currently in 13 clinics across Mecklenburg County. With Read Charlotte's help, the goal is to expand to 35 clinics over the next three years reaching 15,000 additional children. Strategically, that would serve two-thirds of low-income children under 6 years old in Mecklenburg County by 2020.
"As a family physician, I know how essential early reading is to critical early brain development and to supporting children to be better prepared for school."– Dr. Rachel Banks, Family Medicine, CMC-NorthPark Family Medicine
The proven early literacy intervention, Reach Out and Read, is a unique model. Instead of having families sign-up to take part, Reach Out and Read is integrated into routine well-child visits at participating medical clinics. During the visit, doctors prescribe reading aloud every day by modeling reading a book aloud to the child while educating and supporting the parents' in building the knowledge and understanding they need to integrate daily reading and sharing language into their routines at home. 
"This is a remarkable opportunity to reach a significant percentage of the 85,000 children under six years old in Mecklenburg County."  – Munro Richardson, Read Charlotte Executive Director
"Encouraging parents to stimulate their children's early language and brain development during regular pediatric checkups is a simple model that has a lasting, invaluable impact on the life of a child." – Callee Boulware, Reach Out and Read Executive Director
"Increasing early literacy skills can help close the kindergarten preparedness gap for children. Participation in Reach Out and Read leads to longer-term education and social benefits for the child, creates value for society, and saves money that would otherwise be spent on remediation." – Dr. Rachel Banks, Family Medicine, CMC-NorthPark Family Medicine
The program is designed to engage and educate parents on how to make language and bonding around a book part of their daily lives. Each child is then given a new, culturally and developmentally-appropriate book to take home, building a collection of 10-15 new books in the home before the child goes to kindergarten.Reach Out and Read Carolinas is working with partners in the community, including the healthcare systems Carolinas HealthCare System and Novant Health, to help support this expansion work through clinic identification and support of providers across the county.
Reach Out and Read Carolinas is one of the most cost effective evidence-based literacy interventions at only $15 per child, per year. To make a contribution, click below or email us at info@readcharlotte.org.

Make a Contribution
ABOUT READ CHARLOTTE
Read Charlotte is a collaborative, community-wide initiative to double the percentage of third grade students reading at grade level from 40% in 2015 to 80% by 2025. Housed under the Foundation For The Carolinas, Read Charlotte is organized as a backbone organization leading a collective impact effort across Mecklenburg County. Focusing on the continuum from birth through third grade, Read Charlotte builds collaborative partnerships and provides resources on proven practices and/or programs. Read Charlotte plays a leadership role but does not directly operate the programs. Working groups comprised of experts and community members have helped to select strategies, identify community indicators and define a strategic plan that will guide Read Charlotte's work through 2025. For more information, visit www.readcharlotte.org.
ABOUT REACH OUT AND READ CAROLINAS
Reach Out and Read Carolinas is the regional coalition supporting over 400 clinical programs across North and South Carolina.The medically based literacy intervention spread from its foundation in Boston in 1989 and was replicated in communities across the country.Our mission in the Carolinas is to provide a medically-based literacy intervention for all children birth to 5 years of age, beginning with families living in poverty. The Reach Out and Read model is endorsed by the American Academy of Pediatrics, and the program has one of the strongest records of research support of any primary care intervention. For more information,visit www.rorcarolinas.org. Find us on Facebook at www.facebook.com/rorcarolinasand follow us on Twitter @rorcarolinas.