Written by Liz Bertrand
It was a cold February day in 2016 when Munro Richardson, newly appointed Executive Director of Read Charlotte, held a conference call with Janet Singerman (President & CEO) and Carolyn Hazeldine (COO) of Child Care Resources Inc., an organization that helps to ensure that all young children have the kinds of early learning experiences that promote school and lifelong success. Icy conditions had closed local schools but it couldn't stop the three from planting the seeds for a project with the potential to totally transform early childhood education in our community and beyond.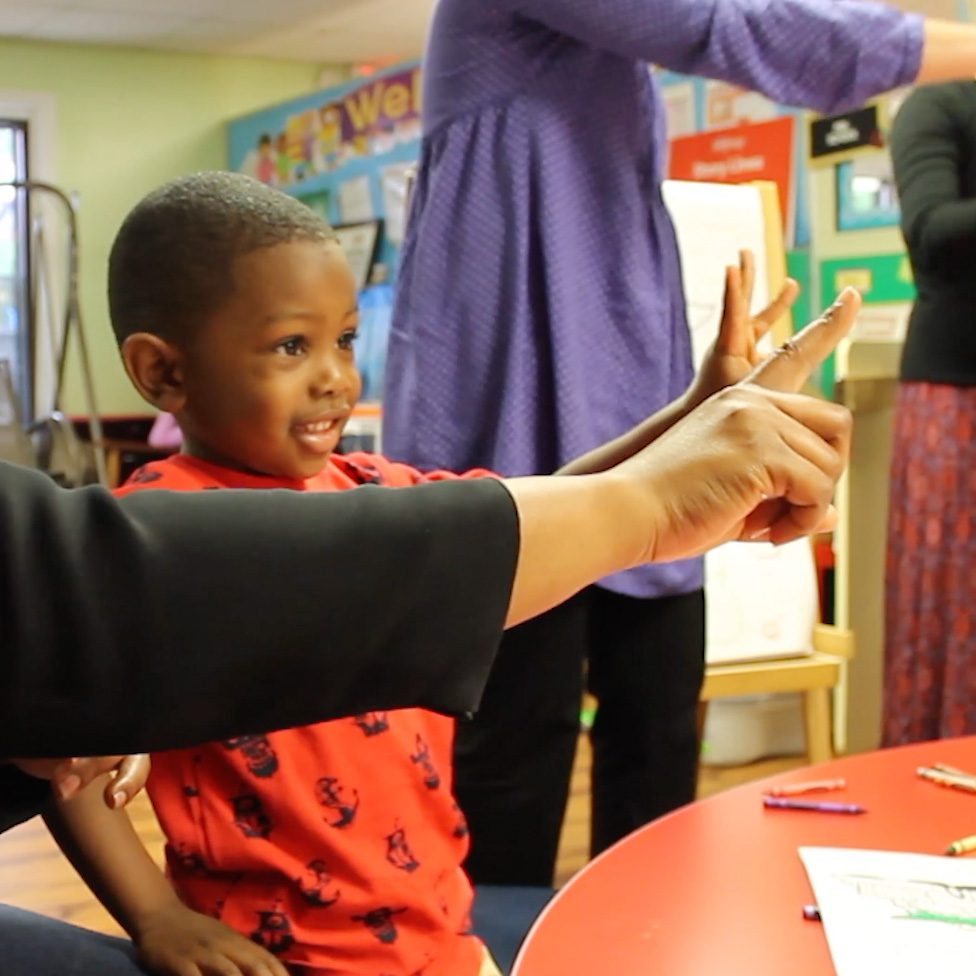 They talked about barriers that made it challenging to assess children in child care settings —like high teacher turnover and insufficient funding; the large number of child care programs that exist, but few use formal assessments of children's literacy skills; and limited coaching resources available for teachers.
Richardson knew these challenges needed to be prioritized as part of Read Charlotte's community-wide effort to increase the percentage of third graders reading on grade level by 2025. Early childhood education plays a key role in helping children master the foundational literacy skills they will need to become strong readers. Finding ways to better support early education teachers with literacy training and providing families with tools to help more students arrive in kindergarten with the developmental skills needed to become successful readers were essential.
The kernel of an idea they planted that winter would grow over the course of months into a comprehensive business plan for Ready to Read, a three-year demonstration project to show the community what is possible if you combine data, literacy coaching and an evidence-based literacy curriculum.
BETTER THAN EXPECTED RESULTS
And now those efforts are bearing their first fruits. Results from Year 2 (the first full school year of implementation) were recently released and exceeded expectations, showing meaningful positive outcomes for both students and adults.
"I can't emphasize how incredibly rare it is to find positive outcomes in both students and teachers," says Richardson. "It just knocked my socks off."
Some key findings for 2018-'19:
Three year olds outperformed their peers in non-Ready to Read Classrooms in each literacy skill: picture naming (expressive language), rhyming (phonemic awareness) and sound identification (letter knowledge).
Four year olds outperformed their peers in sound identification.
Teachers showed improvement in their book reading practices.
These promising results didn't happen by accident. Every step of the way has been carefully considered and it hasn't always been easy. Challenges have popped up along the way and Ready to Read has made dynamic changes in order to keep moving forward. As every gardener knows, it takes a lot of behind-the-scenes work to get a garden to grow.
"I never believe someone who tells me everything is going perfectly," says Richardson. "There always has to be some area where you're learning and trying to get better."
LAYING THE GROUNDWORK
Ready to Read has been highly intentional from Day 1, strategically aligned with Read Charlotte's other initiatives by focusing on child care centers in the same 18 zip codes that feed the highest priority elementary schools for moving the needle on literacy to reach the 2025 goal. It also targets child care centers that get the least funding and outside support.
"[O]ur goal is to prepare a child for kindergarten no matter where they go to preschool… to level the playing field because public Pre-K programs do have certain supports in place that are not available to non-public Pre-K programs," says Susan Yost, Ready to Read Program Manager.
Child care programs invited to participate in the demonstration project had these common characteristics: high teacher turnover, no established literacy curriculum, no literacy-focused coaching, and no data assessment system in place.
"If we could prove it and have it work there, it could work anywhere," says Richardson. Ready to Read was also designed with practicality in mind: building on existing programs and components that could be easily accessed.
A big question remained, however: would child care directors be interested?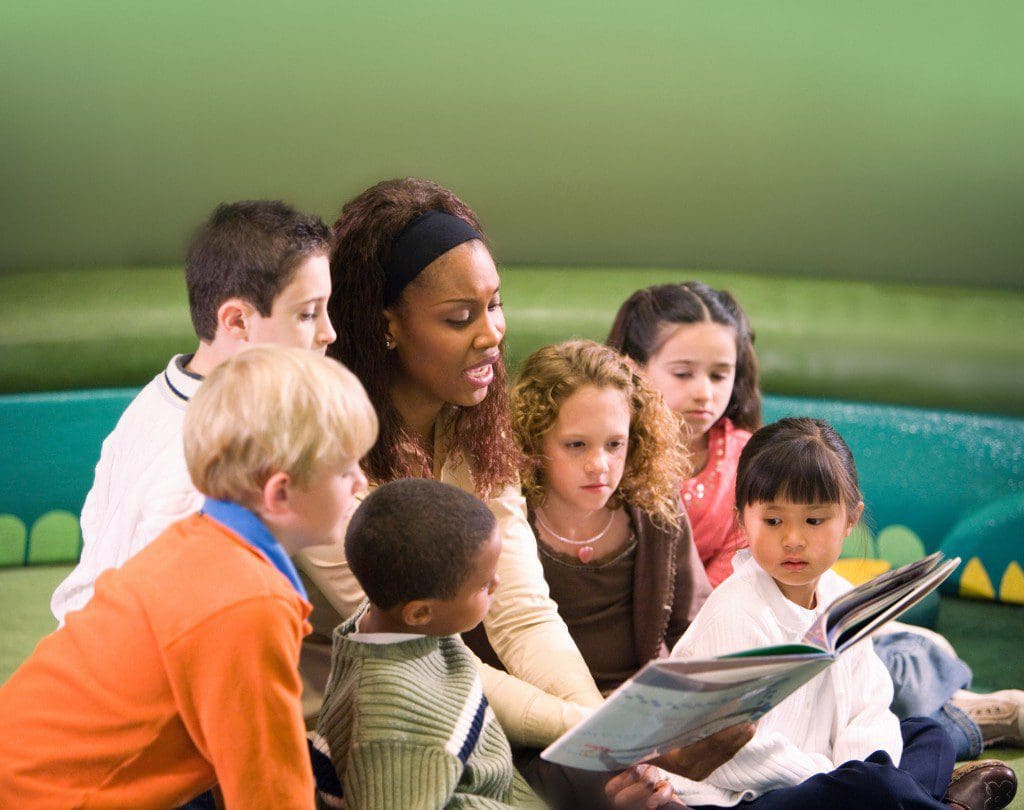 For years, CCRI has encouraged area child care programs to use Raising a Reader, a highly successful national model through which children check out a rotating bag of books each week to read at home. That would be the starting point for this new initiative too. But Raising a Reader had been sold to child care center directors as an easy, turn key program.
"Now all of a sudden we're talking all about these different components," says Richardson, and nobody knew for sure if these centers would want to make these changes.
There would be regular coaching, assessments, and video taping of teachers reading to and instructing children using a new curriculum. In all, Ready to Read would include four evidence-based pieces:
Raising a Reader—A rotating lending library, through which students bring home a new bag of books to read each week.
Ready4K—Easy, fun and age-appropriate tips sent via text messaging for families, aligned with NC state Early Learning Standards.
Active Reading Workshops—Offered in partnership with Charlotte-Mecklenburg Library, the program shows families how to read with (rather than to) children to build language, vocabulary and comprehension.
Literacy Coaching—Providing preschool teachers with strategies and ongoing individualized training to better develop students' language and vocabulary skills.
Luckily, child care centers responded enthusiastically to this new opportunity.
"We were really fortunate that there was really strong interest in this," says Richardson.
COLLECTING DATA
Ready to Read's emphasis on systematic data collection and analysis sets it apart from many other literacy initiatives. At all participating child care centers, formal assessments are conducted twice a year, using myIGDIs (Individual Growth and Development Indicators), an early childhood assessment tool, and ELLCO (Early Language and Literacy Classroom Observation), which measures teacher practice. These assessments raise the bar on accountability, enabling Ready to Read to set benchmark goals and effectively target the areas needed for improvement.
"One thing we know as educators, there's always something new to learn and grow in," says Yost, who came to the Ready to Read project with more than 25 years of experience as a teacher and literacy interventionist. Having these data makes it possible to assess both where students and teachers begin and chart their path toward developing new skills.
In order to keep Ready to Read's costs down, the data collection process and analysis is collaborative. CCRI collects data, the Community Psychology Research Lab at the University of North Carolina at Charlotte analyzes it, and Read Charlotte writes up the findings.
IMPROVING TEACHER PRACTICE AND ACCOUNTABILITY
Literacy coaching, another key component of the program, is also deeply rooted in collaboration. When Nicole Rhyne, Ready To Read Literacy Coach, goes into a new school, the first thing she tries to do is build a relationship with the teachers and child care center director.
"They need to see that it's useful for the children and them," says Rhyne, who is one of five literacy coaches currently supporting the program. "I think overall most of our teachers are very eager. They're very hungry for having more support. They're very excited at being able to grow and learn."
Rhyne knows where they're coming from, as they navigate a career path where it can be hard to find the money or time to develop new skills. "I started out in a private center many years ago, taking one class at a time so I can definitely understand that," she says. "…I've been in their shoes and I know what it's like to not have the resources to get the education or the knowledge you need to be able to provide for the children."
Rhyne meets weekly with teachers to collaboratively set goals and create an action plan. Through a Practice Based Coaching model, teachers implement new strategies, receive feedback, and jointly reflect on their progress. The process is intentionally transparent: coaches support teachers through classroom observations, by modeling research-based strategies, by jointly reviewing video and data collected, and by helping teachers to stay on a path toward continual growth.
Coaching can be transformative. "You go in and you see the strengths and the areas for growth, the things they need to work on, and at the end of the year they've blossomed and they've gained confidence and all these new skills," says Rhyne.
"Ready to Read really does ask teachers to change [their practice] and how they interact with the children," says Yost.
That's not always easy since experience and education levels can vary widely among teachers. And turnover rates in the industry hover around 35% – 40% each year. These challenges have to be taken into consideration as coaching is tailored to each individual teacher. While Yost says it doesn't affect accountability, it does affect teacher growth. "We take teachers where they are, regardless of at what point they start the program."
And each step of the way, implementation of the program is as carefully monitored as the results themselves. "Best practice is important," says Yost. "The research has been done about what works and why it works."
CURRICULUM
But even the best researched plans don't always work as expected. Richardson says finding the right people to implement the program, particularly those who are skilled in myIGDIs evaluations, has been difficult. Moreover, during the first phase of implementation (Spring 2018), program leaders discovered that Story Talk, the evidence-based curriculum they were using, wasn't working as expected. The curriculum, designed for Pre-K classrooms with 4 and 5 year olds, was hard to adapt to a multi-age setting. Training protocol for the curriculum was also challenging in the context of high teacher turn-over; it was hard to get new teachers up-to-speed if they started later in the year.
With the help of Dr. Vivian Correa, a retired UNC Charlotte professor, they selected another evidence-based curriculum from their original list of possibilities. Read It Once Again is a supplemental literacy curriculum better suited for multi-age classrooms. Its non-linear curricular design made the timeline for teacher training more flexible to bring on board teachers throughout the school year.
Read Charlotte and CCRI's willingness to adapt and pivot to a new curriculum mid-way through the project is also important. Research and implementation fidelity are essential but so is continually asking questions and making sure children are learning what is expected. Richardson compares it to someone following a GPS blindly and driving right into a lake. That person might have 100% fidelity but ends up in the wrong place (and soaked!).
By continually evaluating what they do, Ready to Read was able to stay on course. "We asked questions and made adjustments and switched to another evidence-based curriculum," says Richardson.
THE BIG PICTURE
These details matter because it's not just about making a three year project successful. It's about finding the best way to transform early child care education on a large scale. "While it will contribute to helping us reach the 2025 goal, it's also about what happens after that," says Richardson. "…This is about how do we make the sustaining program improvements."
Thanks to data analysis, careful implementation of evidence-based strategies, and a practice-based coaching model, CCRI has been able to see exactly how they achieved their results with Ready to Read.
"The things that we focused the most on in targeting literacy instruction for the teachers to work on were in fact the areas that the teachers made the most growth in. So there was a direct correlation," says Yost.
That helps Ready to Read set clear objectives heading into Year 3, as the program aims to continuously improve and provide a model for what could happen later in Charlotte and other communities.
"I couldn't be more proud of the work that CCRI has done," says Richardson. "I feel very good about the partnership and what this relationship could mean for other parts of the system."
Along with Read Charlotte's Transformation Fund, 11 other funders came together to support the first two years of this $2 million project: Charlotte Mecklenburg Community Foundation, The Duke Endowment, Duke Energy Foundation, CD Spangler Foundation, Smart Start of Mecklenburg County, Stephen L. Cornwell Foundation, Sisters of Mercy of North Carolina Foundation, Merancas Foundation, Leon Levine Foundation, Yates Fund, Ann Dunlap Hendrix Charitable Fund.