In August 2018, Read Charlotte launched its Transformation Network– a group of literacy-focused school partnerships organized to create measurable, transformative change in targeted Charlotte-Mecklenburg elementary schools. It takes an army of dedicated individuals to carry out this complex work and the organization is humbled by the way this group has stepped up to the plate in its first year.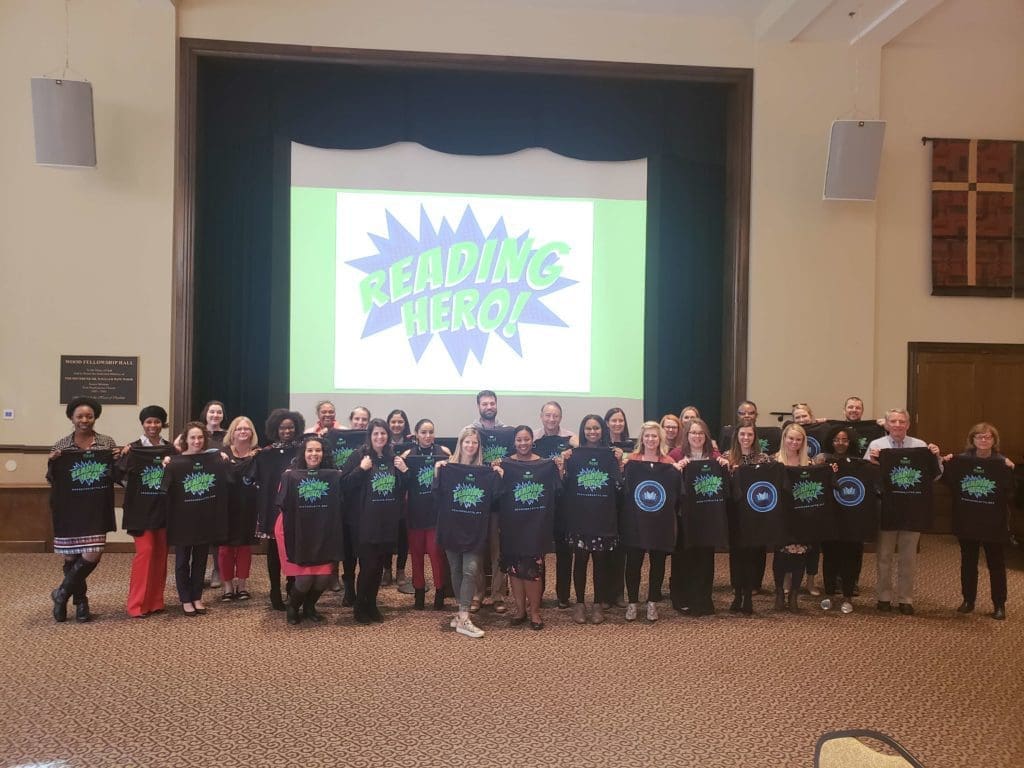 "Heroes do the right thing, even when no one is looking," says Read Charlotte Deputy Director Sonya Castellino. "Since the launch of the Transformation Network, these leaders have done all that it takes to support students' reading growth. They have driven to the Promising Pages warehouse to transport books from their cars into schools. They have spent evenings apart from their families in order to support Charlotte-area families in learning ways to help students improve as readers. They have committed to being high-quality and consistent literacy tutors and have led their neighbors to do so as well. It's an honor to work side by side with their dedication, positivity and support."
The group convenes throughout the school year to support each other's success by sharing best practices and resources, another Read Charlotte ask in which they gladly take part.
The Transformation Network members have committed to humbly and boldly leading change to improve our community.
"It's amazing getting to work with this group," says Project Coordinator Madison Hanakahi. "They are pouring their time and resources into their schools to stack and align evidence-based strategies that will improve students' chances of reaching 80% third grade reading proficiency at the school. Over the months, they have been so willing to take on additional responsibilities as they see the progress they've made and realize what's possible."
Congratulations to the following Reading Heroes!
Alan Barnes– Accenture, Retired 
Glenn Boone– Myers Park Presbyterian
Regina Boyd– UPCA School
Sean P. Carberry– Sterling School
Wendy Casey– Nations Ford Church
Kelly Cates– Promising Pages
Jennifer De La Jara– International House 
Marc Dickmann– Freedom Communities 
Katie Fazio– CMS
Yaira Figueroa– Forest Hill Church
Tina Fincher– Matthews United Methodist Church 
Devonya Govan-Hunt– BDCI 
Kate Griffin– Trinity Presbyterian 
Catherine Haydon– CM Library 
Heather Herring– First Presbyterian Church 
Tamara L. Holt– CMS
Tori Kendrick– Tutor Charlotte
Helen Kimbrough– ALP
Grace Lindvall– Trinity Presbyterian
Martha Link– CM Library
Jenna Marotta– CM Library
Brittany Maxwell– HFES School
RaShawyn Morris– Scholastic
Kathryn Pedrotty– Montclaire ES
Eridania Perez–Sterling School
Danyae Person– Crossroads Community Corp 
Jessica Pierson– Forest Hill Church 
Jacqueline Smith– Nations Ford School
Melissa Trask– Sterling School
Amanda Wilkinson– YMCA
Tara Zaremba– CMS
Jerri Haigler– Tutor Charlotte
Frans'wa Hill– HFES School
Nancy Martinez– Starmount School
Nick Paquette– Nations Ford School
Kelly Rogers– Harris YMCA & HFES
Casey Topol– Temple Israel & HFES
Martha Yesowitch– CM Library & Sterling
Caylene Brown– Forest Hill Church
Barbara Cantisano– CM Library
Emily Elliot– Heart Math
Ellen Harris– Selwyn Presbyterian
Paula Jackson– Berewick Elementary
Isley Jesse- CM Library
Christine Keitt– Urban Promise
John Parker– Forest Hill Church
Melissa Walker– First Presbyterian Church 
Haven Blanks– Steele Creek School
Kylene Collins / Westerholm– HFES School
Nikki Dudley– Reedy Creek School
Angela Everitt– Billingsville School
Alison Houser– ALPLauren Joyce– HELPs
Merita Little– Steele Creek School
Meaghan Loftus– Ashley Park School
Jimmy McQuilkin– Urban Promise
Lionel Means– UpLift Church 
LaShay Morgan– Reedy Creek School
Dena Paulding– McCrorey YMCA 
Andria Petry-Siage– Trinity Presbyterian 
Orlando Robinson– Reedy Creek School
Tracy Smith– UPCA School
Malacy Williams– Westerly Hills
Mary Bowman– Selwyn Presbyterian
Mojdeh V. Henderson– Berewick School
To learn more about the Read Charlotte Transformation Network, CLICK HERE.