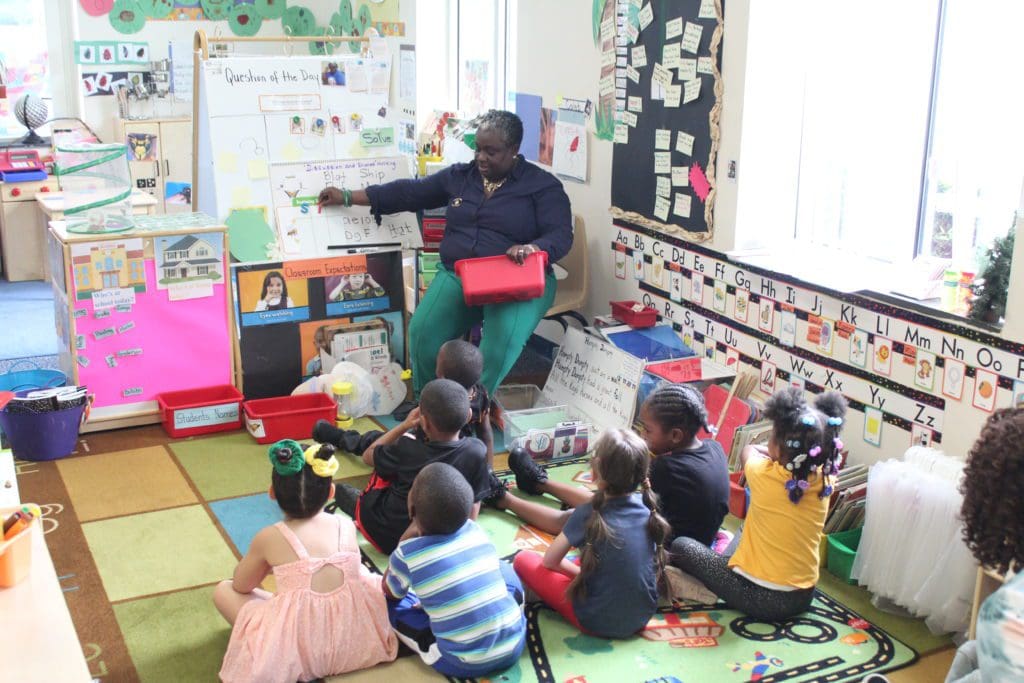 By Whitney Stein
It's often said it takes a village to raise a child, and, in that spirit, organizations in our community are working together to strengthen the supports available to local families raising young children.
Their collaboration is focused on birth to age 5, which is a vitally important development period and also an area where there is a wide range of care and educational options that a family can choose from to meet their unique needs.
"That birth to five space is critical," said Tara Lynn Sullivan, Assistant Superintendent of Learning & Teaching with Charlotte-Mecklenburg Schools. "All of the development that happens is crucial to help children be ready and prepared when they enter kindergarten."
Teressa Beam, the Executive Director for Pre-K Programs with CMS, echoed that, noting that much of a child's brain develops before they set foot in a kindergarten classroom.
"Think about all of the brain development that happens from birth to five, and the research that's out there that says 85 to 90 percent of a child's brain is developed between birth and five years old," Beam said. "So it's very important that we invest in the spaces earlier to give us better outcomes in the long run."
Investing early is the focus for Smart Start of Mecklenburg County, which works to improve early childhood health, education, and development, and for Tim Gibbons, the Program Manager for Early Childhood Education Initiatives in Mecklenburg County. In recent years, CMS, Smart Start, and the county have worked to create a deeper level of collaboration across their organizations, to bring them closer to the ultimate goal of better outcomes for children and families.
"In the past few years, I would say there's been a real focus on collaboration," said Smart Start CEO Jake House. "It's something that my team and I have sought to do, and we just started with conversation."
Those conversations have continued and evolved into a structure of regular meetings, giving the teams a chance to identify common challenges and possible solutions, and share knowledge and resources.
"I think first and foremost, it starts with just being honest about the needs and challenges in the community, and being honest about the things we can bring to the table, and where we need buy-in and support from others," Gibbons said.
Pre-k is a major collaboration point, with efforts to enroll more children in the free programs available: MECK Pre-K, administered by Smart Start and funded by Mecklenburg County, and Bright Beginnings and NC Pre-K, managed by CMS.
"We meet at least once every other week with our counterparts in CMS leadership, if not more frequently, whether that's planning enrollment and registration, or talking about programming, quality, support services – you name it," Gibbons said. "That really, in just the last year and a half, has really blossomed. It's amazing how productive it's gotten."
"Together we've mapped out where we have what we call deserts in childcare, in pre-k programming, and it's about making moves so that we are providing pre-k classrooms and spaces in places that had not had those, to make it much more accessible for families and for students," Sullivan said. "So that, to me, has been exciting. That has been an amazing partnership with the MECK Pre-K team."
The organizations' shared commitment to local families has made the process of aligning their work that much easier, Sullivan said.
"What's made that successful is being open, having honest communication, being willing to share, being willing to listen, creating space and time to work with one another and staying committed to that work, and at the end of all of it, I think every single one of us is so passionate about meeting the need of every child in this county, and doing whatever it takes to meet the needs of the kids in our county – to me, that's what's making it successful," she said.
Mecklenburg County is unique in the level of collaboration happening in this space, House said.
"You generally don't find that, where a school system is working well with Smart Start, who has a good relationship with the county, and the county supports early childhood education," he said. "Maybe it exists other places, but I haven't heard of anything like this. And I do believe that there is a willingness to engage and collaborate."
But while these groups are excited about what's been established, their focus remains on the work still to be done.
"I think the benefits, hopefully, are that children and families feel more supported, and that they feel like there's actually a system that cares and supports them," House said. "Even when you are working together, the challenges are just so, so steep. We have all these good things going and yet, we still have a childcare crisis. We still have workforce challenges. We are battling out of a pandemic. We have children showing up with undiagnosed needs. But thank goodness there is a system. There is a foundation of collaboration."
And that foundation, these groups hope, will lead to more access and opportunity for all children in Mecklenburg County.
"To me, it's just been so amazing to learn and work with colleagues who have the same passion and enthusiasm for children, and for getting opportunities for every single child," Sullivan said. "I just feel it's an exciting opportunity we have right now in our county."