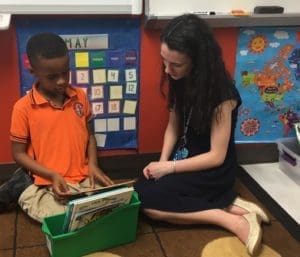 Alesa Yuodsnukis is a first-grade teacher at Queen City STEM, where her own love of reading motivates her to help her students succeed.
Yuodsnukis provides each of her students with individual attention to meet their specific needs. One parent noted that Yuodsnukis took out time to give her child weekly one-on-one tutoring sessions after school and provided her child with extra sight word practice. Now, the student can recognize an estimated 100 sight words.
Yuodsnukis works hard with each student, and notes that the individual connection is paramount. "I spend so much time learning about and working with my students individually because it's how they see that I love them and care about every aspect of their future, not just their academics. Some students need extra time after school to practice sight words and find good-fit books; others delight when I come to their home for dinner and board games. It's all about helping each of my kids feel special, because that's when they grow."
As a teacher, Yuodsnukis has a huge passion for reading, and this drives the work that she does to help her students succeed. For her, instilling a love of reading for each and every one of her students is a gift. "The warmest, most vivid memories of my childhood all involve reading– in the grocery cart, under the blankets late at night, and on the carpet in my elementary school classrooms," she adds.
Yuodsnukis hopes that each of her students become proficient readers, "for the purpose of intrinsic joy, of creating a lifetime of these memories."