Action Learning Teams
Action Learning is an approach to solving real problems that involves taking action and reflecting upon the results, which helps improve the problem-solving process, as well as the solutions developed by the team. Action Learning helps organizations develop creative, flexible and successful strategies to pressing problems.
Action Learning Process
Read Charlotte's Action Learning process has four steps that include:Define and understand emerging system issuesDesign strategies to address root causes of these system issues, including small wins and implementation supportsDo and implement systems change by carrying out strategiesLearn how the strategies affect system conditions, respond this feedback and adjust accordingly
Action Learning Teams
Read Charlotte has organized four Action Learning Teams (ALT) as a core part of its systems change process. An ALT is a small group of individuals who represent his or her organization and are committed to designing and implementing powerful system change solutions. Each ALT will be assisted by a facilitator, whose job is to help keep the ALT moving forward, maintain intra-group accountability, and ensure that continuous learning takes place. The ALT will use the ABLe Change Framework of systems change and continuous improvement to commit to action every month to move work forward, monitor the implementation, and revise practices accordingly.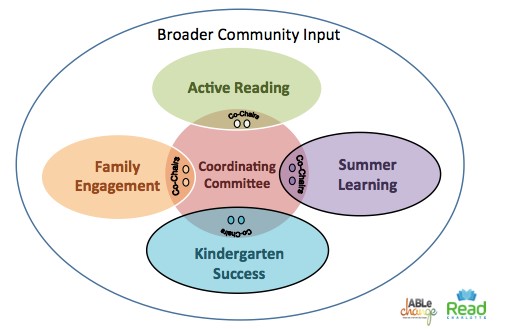 Family EngagementVioleta Moser, Co-Chair (Latin American Women's Association)Lisa McMillan, Co-Chair (Community Volunteer and Working Group member)Sarah Shifflet (Communities In Schools and Working Group member)Virginia Covill (Communities In Schools)Champagne Selman (Smart Start of Mecklenburg County)Michael DeVaul (YMCA)Pilar Perez (YMCA and Working Group member)Lee Bush-Perry (Child Care Resources Inc.)LaTarzja Henry (Charlotte-Mecklenburg Schools)Maria Cardarelli (Charlotte Bilingual Preschool)Susan Hansell (A Child's Place)Callee Boulware (Reach Out And Read)Caroline Trammel (Reach Out And Read)Jerri Haigler (BELL)Carol Morris (Foundation For The Carolinas/Opportunity Task Force)Martha Reneau (Thompson Child And Family Focus)Steffi Travis (CareRing)Facilitator: Sarah McNeil (United Way of Central Carolinas)Active ReadingDana Eure, Co-Chair (Charlotte Mecklenburg Library)Amanda Wilkinson, Co-Chair (YMCA)Kristina Cruise (Promising Pages)Emily Nanney (Charlotte Mecklenburg Library and Working Group member)Elisabeth Wilson (Charlotte-Mecklenburg Schools)Carolyn Hazeldine (Child Care Resources Inc.)Jalyn Stanely (Charlotte Reading Assocation)Helen Kimbrough (Reading Partners)Greg Schermbeck (Schermbeck Consulting and Working Group member)Facilitator: Deepti Panjabi (Read Charlotte)Kindergarten SuccessBarbara Cantisano, Co-Chair (Charlotte Mecklenburg Library)Devonya Govan-Hunt, Co-Chair (Govan-Hunt Consulting)Paul Barnhart (Freedom School Partners)Shannon Tucker (Charlotte Speech and HearingEleanor Toliver (First Ward Child Development Center)Alison Houser (Augustine Literacy Partners)Joanne Stratton Tate (Charlotte Bilingual Preschool)Lee Henderson (Smart Start of Mecklenburg County)Molly McKinney (Charlotte-Mecklenburg Schools)William McDonald (Bethlehem Center/Head Start)Cass Wolfe (Child Care Resources Inc.)Courtney Alexander (Lakewood Preschool)Judith Carter (The Learning Collaborative)Facilitator: Bill Geiger (Consultant)Summer LearningMary Nell McPherson, Co-Chair (Freedom School Partners)Lelia Smallwood, Co-Chair (YWCA)Sherrinne Reece (BELL)Diane Powell (Charlotte-Mecklenburg Schools)Stephanie Galeotti (International House)Carmen Blackmon (Above and Beyond)Holly Summers-Gil (Charlotte Mecklenburg Library)Collette Jeffries (Charlotte-Mecklenburg Schools)Candice Colvin Charlotte-Mecklenburg Schools)Facilitator: Maggie Wittman (Read Charlotte)Action Learning Team membership as of October 28, 2016