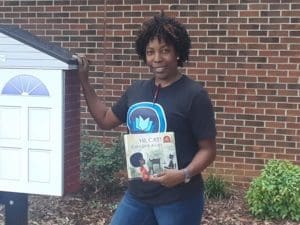 Dr. Devonya Govan-Hunt has tirelessly given her time and efforts to Reedy Creek Elementary, as well as the entire Mecklenburg County community, to improve reading outcomes across the board.
"She has organized our book fairs as our former PTO President, started initiatives such as 'Becoming a Reader' for our lower grades, organized community meetings for our staff meetings to brainstorm with community leaders, and given countless hours to volunteer in reading classes at our school," explains one Reedy Creek teacher. "Dr. Hunt's passion for the literacy success of our students is impeccable!"
Govan-Hunt's company, Black Child Development Institute, has also partnered with several CMS schools to build their literacy efforts. She has initiated a summer STEAM camp that incorporates literacy to help fight the summer slide. And year round, Dr. Govan-Hunt works closely with Read Charlotte and Charlotte Mecklenburg Library to connect teachers and families with existing resources.
Read more about Dr. Devonya Govan-Hunt here: https://www.govanhunt.org/team