50 HELPS tutoring sessions on average closed 75% of the gap for third graders who started school one year behind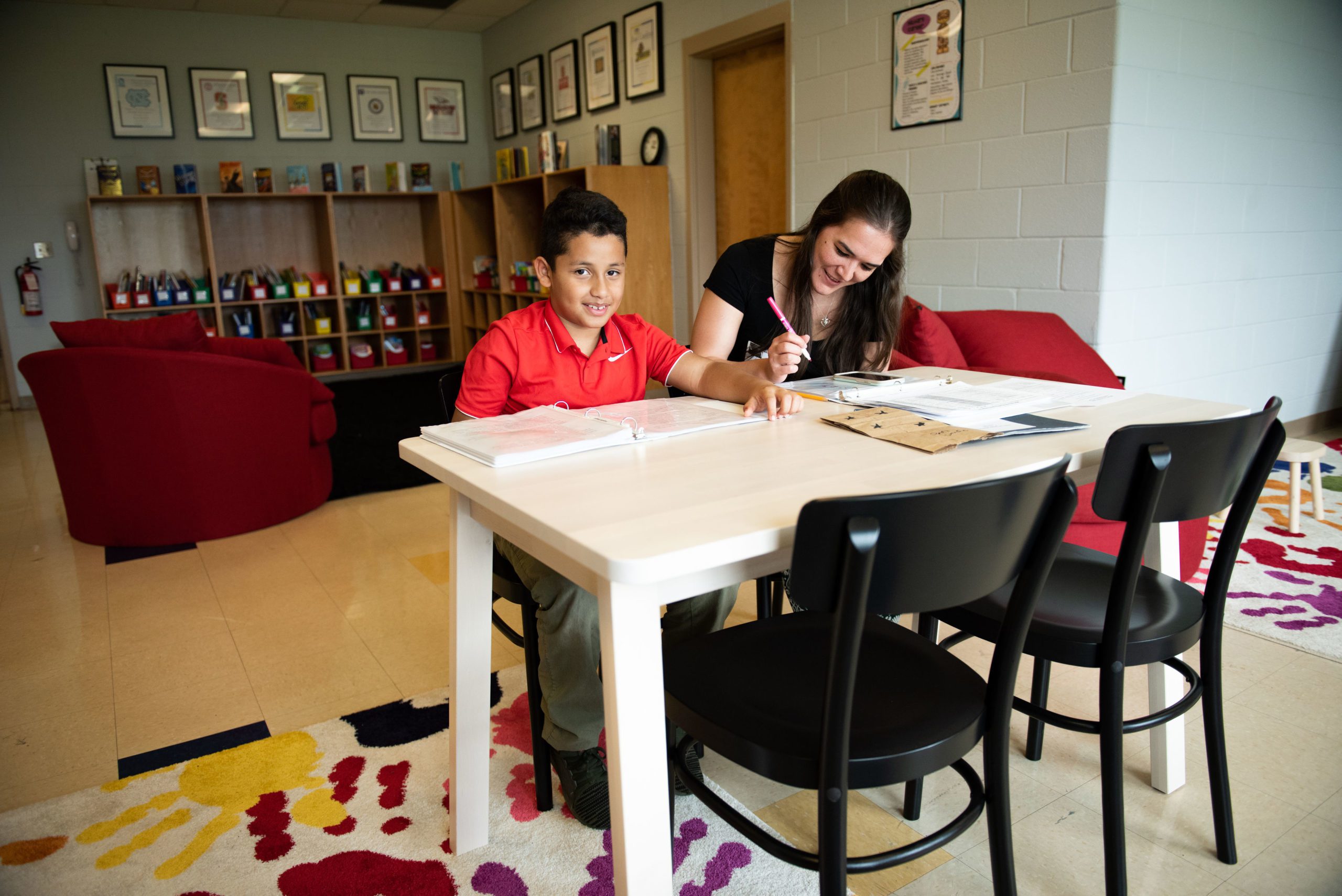 CHARLOTTE, N.C.— July 10, 2019— Read Charlotte and the Helps Education Fund released results today of a new tutoring initiative that launched in 10 Charlotte-Mecklenburg Schools (CMS) elementary schools in 2018-2019, which revealed staggering proof that the reading achievement gap in Mecklenburg County can be closed.
HELPS (Helping Early Literacy with Practice Strategies), an evidence-based reading fluency program developed by Professor John Begeny of North Carolina State University, was used by dozens of community partners and individual volunteers in Charlotte to tutor 155 CMS third graders in the 2018-2019 school year. It's part of a larger initiative by Read Charlotte to mobilize the community around a coordinated set of evidence-based programs to improve third grade reading proficiency rates.
The average CMS third grader who received HELPS 1:1 tutoring started in Fall 2018 a full year behind in oral reading fluency. Reading fluency is a student's ability to read with speed, accuracy and proper expression. Research finds strong correlations between reading fluency, comprehension and overall reading achievement. An analysis of CMS third graders in 2018 found a 62% correlation between third grade end of year oral reading fluency scores and student performance on the North Carolina end of grade (EOG) reading assessment.
In the 2018-2019 school year, 46 percent of the students who received HELPS tutoring exceeded national norms for expected growth in oral reading fluency.
"We are incredibly encouraged by these results," explains Read Charlotte Executive Director Munro Richardson. "It far exceeds what we expect to see from reading interventions in general, and is even greater than what we expected to see based on prior research on HELPS. The power of HELPS is undeniable and we see a clear path to closing gaps for more kids to achieve greater reading proficiency by the end of third grade."
These results are due to the extraordinary collaboration of many community groups starting in spring 2018. A core group of organizations came together to support the launch and implementation of HELPS in Charlotte-Mecklenburg: Helps Education Fund, CMS, Augustine Literacy Project, United Way of Central Carolinas, Project LIFT and Read Charlotte. A dozen more organizations assisted with tutor recruitment. Read Charlotte coordinated this effort and where possible sought to align it with complementary efforts such as Family Literacy Nights and organized efforts to build children's home libraries.
Read Charlotte estimates about 20-25 percent of CMS third graders know how to sound out individual words (phonics) but don't read with enough speed or accuracy (fluency) to understand what they are reading. The organization has determined it can help more students become proficient readers with a targeted focus on reading fluency with the HELPS 1:1 tutoring program.
The average third grader who received HELPS tutoring started the school year in fall 2018 reading 51 words correct per minute — the equivalent of an on-track beginning second grader. To catch up, these students would need to grow reading fluency by an additional 49 words correct per minute in a single year, which is about double the national normal growth rate for third graders. Students who received at least 50 HELPS fluency tutoring sessions benefitted the most and closed 75% of this gap. This is the equivalent of growing just over 1.5 grade levels in reading fluency in a single year.
"We couldn't be more grateful to all of the people and organizations who helped make this happen in the first year. This is one important component of a set of stacked and aligned strategies that Read Charlotte is supporting to improve literacy outcomes. This fall, the goal is to recruit even more partners and tutors to double the number of students served," explains Richardson. "We want to make sure that all participating students get at least 50 HELPS sessions in the coming school year. The partnership of schools, the faith community, businesses, higher education, community groups and individuals volunteering to help us carry out this proven program is critical to meeting this goal for children in Charlotte-Mecklenburg."
Volunteers complete a CMS background check, attend a three-hour training and begin tutoring one hour each week in select schools, following the scripted HELPS program. In an end-of-year tutor survey, 92 percent of the volunteers said they were satisfied with the experience.
"It was exhilarating to see real improvement in the reading fluency of the kids with whom I worked in HELPS," says one volunteer, George Miles. "The kids were also excited at their improvement and it is such an incredible feeling to see them excited about learning! Reading came naturally to me and I have always loved to read. I cannot imagine what my life would have been – personally and professionally – if I could not have read well. Helping kids who don't have all the advantages that I had just plain makes me feel good. But more importantly, I see how it makes the kids I tutor feel about themselves as they work and improve. There's nothing like it in the world!"
To learn more about becoming a HELPS tutor in the 2019-2020 school year, visit ReadCharlotte.org/HELPS.