The Story Behind a Transformative Literacy Tool to Put Power in the Hands of Families
By Liz Rothaus Bertrand
In October, Read Charlotte rolled out an updated version of its popular Reading Checkup with several enhancements to make it work even better for local families throughout the school year. Nearly 2,600 children completed a Reading Checkup over the summer. Families used the free online tool to find out their child's current reading and vocabulary levels and discover a customized selection of fun, research-based activities they can do at home to help their child become a stronger reader.
This new version now includes a Pre-K option to support children who have not yet started elementary school as well as updated features to make it easier to use. It also includes some Spanish language explanations to help bilingual children and families get started. Here's a behind-the-scenes look at this unique tool's origin story and how Read Charlotte collaborated with community partners to improve it and get it into the hands of local families.
CHANGING COURSE TO MEET NEW NEEDS DURING THE PANDEMIC
When the pandemic closed schools this spring, Read Charlotte had to quickly change course. "Just like everyone else, our world changed in mid-March and we had a number of projects we were supporting that suddenly came to a halt," says Read Charlotte Executive Director Munro Richardson.
With great uncertainty about how learning would continue during a public health emergency, Read Charlotte first focused on curating online resources that would align with the CMS curriculum to supplement learning at home. The #KeepLearningCLT initiative, launched in March, was an immediate response to the crisis.
No one knew for sure what the long term effects of the learning interruptions and school closures caused by the pandemic would be on children, but Read Charlotte's team knew they had to continue to identify the best resources to help families and educators.
In June, the consulting firm McKinsey & Company released a report estimating the average K-12 student could lose the equivalent of 7 months of learning by fall 2020 due to COVID-19 school closures in the spring. For Black and Hispanic students the potential losses were even higher—10.3 months and 9.2 months respectively—and for children living in poverty it could equal more than a full year's worth of learning.
By then, Read Charlotte was ready with the first version of the Reading Checkup.
COLLABORATING WITH LEARNING OVATIONS
Richardson says sometimes opportunities arise, by necessity, in response to difficult circumstances. Such is the case with the Reading Checkup, which was created in partnership with Learning Ovations. The California-based company's patented technology and algorithm are based on years of research by Dr. Carol Connor—one of the nation's leading academics focused on reading and language acquisition—and were originally designed to be used by teachers in a classroom setting.
Since 2017, Richardson had been following Connor's work, finding the UC Irvine professor's research to be some of the most exciting and promising he had seen. Connor's research focuses on effective reading instruction. She determined that there are four types of reading instruction and that children needs different amounts of daily minutes of these types of instruction based upon their reading, vocabulary and comprehension skills. Every six months or so, he would check to see if there had been any new developments or movement toward practical applications of the research.
The Four Types of Reading Instruction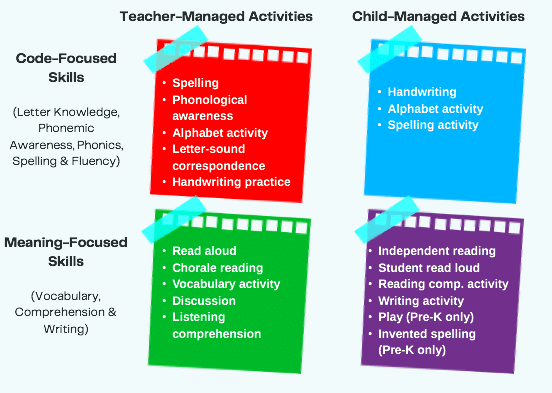 Near the end of 2019, Richardson learned that Connor had created Learning Ovations with her husband, Jay, to disseminate her findings. The company's A2i (Assessment-to-Instruction) technology is the fruit of 13 years of rigorous research, 2,000 hours of classroom observations, seven randomized control trials (RCTs), and the subject of more than 30 peer reviewed journal articles. A three-year RCT study found that 94% of 354 students whose teachers used the A2i system to guide their reading instruction starting in first grade were reading on grade level by the end of third grade. The average reading level was fifth grade.
In January, Richardson finally had the opportunity to meet the Connors and flew out to California to learn more about the A2i system, which was showing promising results in real-world classrooms, which don't have the "pristine" conditions of a university research study. After waiting for over three years, he was now eager to see how it could be utilized to support children in Charlotte-Mecklenburg.
A few weeks later COVID-19 hit the US and everything changed.
The United States Department of Education, which had funded research for A2i, asked Learning Ovations to release a version of its effective school-based system for families to use at home. In early April, the company released the "Home Literacy Coach."
Read Charlotte's team loved the Home Literacy Coach quizzes, which were quick and easy to complete, as well as the algorithms, which recommended how much time families should spend on the four types of reading instruction to improve their individual student's reading and vocabulary skills. It also recommended activities based upon student's reading needs. But that's where Read Charlotte saw an opportunity for collaboration.
"They were using something that was built for teachers and trying to make [it] work for families," Richardson says. Many of the activities required a printer and paper and not all families have access to these resources at home.
A local team including representatives from Read Charlotte, Helps Education Fund, Augustine Literacy Project-Charlotte, and later, Child Care Resources Inc., worked on curating hundreds of family-friendly activities that would target the literacy skills recommended by the Home Literacy Coach. Read Charlotte partnered from the beginning with Charlotte-Mecklenburg Schools, which recommended the Reading Checkup to principals and teachers as a key resource for families of K-3 students over the summer. During the summer, a group of CMS K-2 teachers also created 114 supplemental videos to demonstrate to parents how to do the literacy activities at home. CMS also promoted the Reading Checkup on marquees in front of elementary schools during the summer.
Learning Ovations said its trust in Read Charlotte to reimagine the tool for Mecklenburg County was strong.
"We work with organizations that seek excellence at every turn in order to improve outcomes and close achievement gaps in their communities," says Jay Connor, Founder and Chief Executive of Learning Ovations. "Other partners like IES [Institute of Education Sciences], the research department of the US Department of Education, and school districts in multiple states are affecting transformative change when it comes to reading outcomes by utilizing our proven technology. We're all very excited to see what this tool, reimagined for families in Charlotte-Mecklenburg, can achieve."
COMMUNITY PARTNERS MAKE IT ALL POSSIBLE: TWO CASE STUDIES
A great tool means nothing, however, if it's not used. That's where more than 80 community partners have played a vital role—helping to spread the word about the Reading Checkup and devising innovative strategies to connect directly with families since it launched in early June. Following is an up close look at how two of those community partners worked to integrate this new resource into the lives of local families.
Dr. Devonya Govan-Hunt, president of the Charlotte affiliate of Black Child Development Institute (BCDI-Charlotte), calls this "heart and soul work." Her all-volunteer group advocates and educates to improve the quality of life for Black children and their families through direct engagement with the community.
For years, she says, families were left out of the decision-making process, as determinations on needs and resource allocation were being made in board rooms rather than in partnership with the community. "We're very intentional about making sure their voices are h heard," says Govan-Hunt, who has found a like-minded partner in Read Charlotte.
"Read Charlotte has always done such a beautiful job at making the material so inclusive," she says. "So it doesn't matter what school we walk into, what neighborhood we're in, everybody can see themselves because it is an 'everybody problem.' It's not just a one-side-of-Charlotte problem or a one race or socio-economic problem. It's everybody's problem so everybody can see themselves in that material and that's important to us also."
BCDI-Charlotte has been instrumental in local efforts to boost literacy. Last year alone, the organization was involved in long-term outreach and tutoring initiatives in 11 different schools on Charlotte's east side.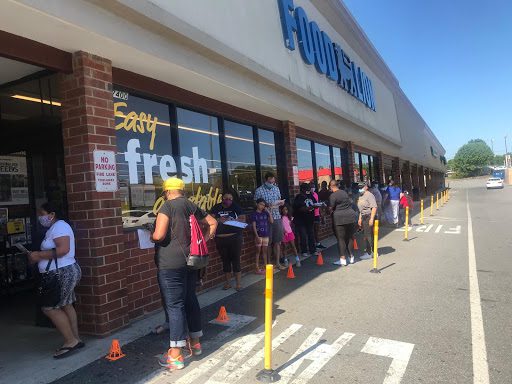 During the summer, BCDI-Charlotte piloted a series of Curbside Events to introduce Reading Checkup to area families. They set up tables every other Saturday outside of local Food Lion grocery stores to connect in person with the community. The group had laptop computers available so children could take the 5-10 minute literacy quiz, and showed families on the spot how to interpret results.
"We knew that it didn't matter the income level, the community or neighborhood, somehow you ended up at a grocery store at some point because everybody's got to eat," Govan-Hunt says.

Families circulated around several other stations run by BCDI-Charlotte volunteers, including a brief intro to the "ABCs of Active Reading" and a table with high-quality books available for families to take home. BCDI-Charlotte distributed special Learning Kits with supplies like pencils, crayons, and scissors as well as any extra materials needed (such as chalk, glue, or cut out letters) for one grade level-appropriate Reading Checkup activity. That way each family could get started right away at home without having to copy or purchase anything. Volunteers also encouraged families to participate in a virtual follow up session in which any questions or trouble-shooting could be addressed.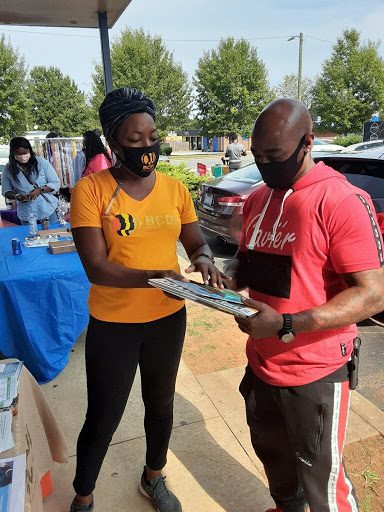 At the same time, BCDI-Charlotte worked with CMS literacy facilitators and school counselors to identify families they knew would have trouble getting out into the community or were too high risk for contracting the coronavirus to attend a curbside event. In these cases, after speaking to them over the phone, BCDI-Charlotte volunteers arranged a Front Porch Visit. Grandparents, aunties or uncles were often part of these conversations too, Govan-Hunt says.
Families know why building literacy skills are important, she adds, they just don't always know how to integrate it into their busy lives. With so much that has been out of their control during the COVID-19 pandemic, the Reading Checkup provides a way for parents to take back the reins.
"We had so many families that were struggling with being laid off from work, not being able to work because they have to stay home with children for school," says Govan-Hunt. "Even though all of that was going on, they were still able to hear us say: this part you can control, and this part you can have something to do with your child being able to do well in third grade, graduate high school, get a good job, earn a living wage, end this whole cycle of poverty, if they were dealing with that."
BCDI-Charlotte reached over 900 families and nearly 1,900 students this summer and they are ready to hit the ground running with the new version of the Reading Checkup. This year BCDI-Charlotte will expand its community efforts to partner with 15 different schools. Govan-Hunt says the new version of the Reading Checkup incorporates changes to make it easier for families to sign up, including new Spanish language explanations so kids won't have to translate the objectives of the Reading Checkup to their parents, as many of the families BCDI-Charlotte works with speak Spanish at home. Now that kids are back in school, the emphasis is on helping families see how they can work alongside teachers to move children along in their literacy.
Another key partner, Charlotte Bilingual Preschool, used the Reading Checkup as a tool for teachers and caregivers to work collaboratively, as they facilitated student learning at a distance, through the school's first-ever Summer Bridge Literacy Program. One of the important findings after the eight-week pilot was that the Reading Checkup helped educators and families strengthen bonds with one another.
The school serves economically marginalized Spanish-speaking families from a variety of backgrounds, says Banu Valladares, executive director of Charlotte Bilingual Preschool. It takes a two-generation approach, supporting children's education while engaging families and reminding them that they are their children's first teachers and home is their first classroom.
When it first opened 20 years ago, Charlotte Bilingual Preschool served primarily recent immigrants and low literacy families. That has changed as some of those first families now have subsequent generations attending the school and as new immigrants from Central and South America have also joined the school. Some of these new families arrive with more money but fleeing what Balladares describes as "situational poverty" in their home countries.
"They're remarkable people. As we get to know them, their strengths are what I notice," Valladares says. "They are very committed to their children's education."
Before the coronavirus pandemic, Charlotte Bilingual Preschool had already partnered with Read Charlotte for three years on the Data Collaborative, an initiative that combined coaching and improvement, in the use of data to inform teaching strategies. Valladares says she has enormous respect for Munro Richardson's laser focus on accountability and measurement to ensure efforts concentrate on the most effective levers for improvement.
"One thing that I love about Munro is that he also understands the impact and for you to be able to scale anything you have to have something that is consistent that you can measure," says Valladares "…Those three years we really evolved. The second we started with the Data Collaborative, our team, our teachers, became data fiends because teachers want their children to succeed."
When schools had to shut down in spring 2020 and McKinsey & Company announced its findings about the dire effects learning interruptions were likely to have on the Latinx community, Valladares knew Charlotte Bilingual Preschool had to take action.
"I see the work that we do as essential," she says. "This is not like a mother's morning out. This is changing the life trajectory for a child. It's very serious work. So after the pandemic, which really impacted our families, they lost jobs. They lost the ability to feed themselves. It was horrible. I said, 'we've got to do something to make sure that our children are going to be OK.'"
More than 70 of Charlotte Bilingual Preschool's students and their caregivers used the Reading Checkup over the summer. Teachers provided arts and crafts materials and sent families pre-videos so they could prepare in advance for the week's learning activities. Teachers also translated activities and provided explanations for caregivers since the Reading Checkup is in English. Following the weekly Zoom calls, teachers provided follow up strategies for caregivers to continue expanding upon the week's lesson.
Even in this short intervention, students who participated in pre- and post-assessments showed modest improvement in their literacy skills. Valladares cautions that only a small group received both assessments and that a longer-term study with more controls would be needed to confirm these findings.
But for Valladares, the collaboration that developed last summer between families and teachers was just as important. There was "a ton of family engagement and family participation and family confidence that we thought was a really good thing also," says Valladares, "so it's not just a gain for the child but when the family feels more comfortable supporting their child's education that is actually a skill that lasts forever."
The new Reading Checkup focuses on Pre-K through 3rd grade instead of last summer's K through 3rd grade version. This aligns better with Read Charlotte's focus and also will enable more families to get started using this tool with their children at an earlier age.
That's a welcome change for educators like Valladares who says, unfortunately, in recent years she's seen a significant drop in students' readiness skills when they enter preschool. "We've got to grab them at home earlier," she says, "… connect with the family, build those skills so that they don't have such a steep hill to climb."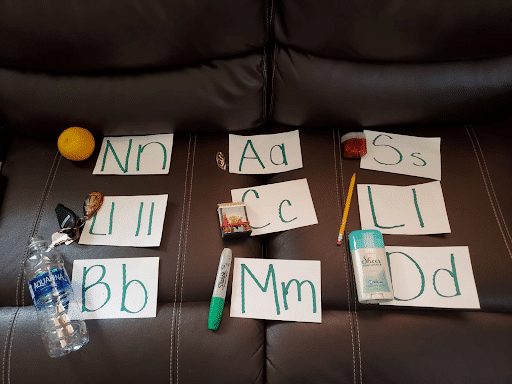 For dual language learners, Valladares hopes someday there will be a completely bilingual version of Reading Checkup so that students can continue to thrive in their first language while developing in the second language. (Note: Learning Ovations is working on a Spanish-language version of A2i.)
The new supporting info for Spanish speakers is a step in the right direction.
Organizations like BCDI-Charlotte and Charlotte Bilingual Preschool are helping to pave the way for Charlotte, and potentially other communities, in determining how this tool can best be utilized by families and educators to support learning at home.
"I know without a doubt that the experience in Charlotte has shown Learning Ovations what might be possible," says Richardson. "I think we really are the testing ground. That's part of the relationship that we built."